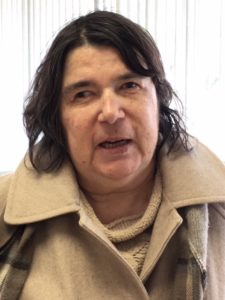 Kerry Smith
I graduated from Trinity International University in Deerfield Illinois. I received a BA degree in Social Science in 1980.
I came to Missouri in 1990 and started working as a Customer Service Representative for Pizza Hut for 6 years. In 1999 I decided to attend Missouri College where I received my Computer Office Certificate. Then in 2001 started my own Braille Transcription business. Went to work in 2010 I worked for the American Red Cross as a Tele Recruiter. When the call center closed I began to work for Paraquad as a Peer Consultant.
I have volunteered as Director of Lutheran Blind Outreach for 15 years. Taught the basics of computers at Camp Yorktown Bay in Mountain Pine Arkansas. As of this year I am a board member for United Workers for the Blind.
I am also a board member of the national Braille Revival League.
As board member of the Service Club for the Blind I will be supportive of the needs of the members and clients in upholding the mission of the organization.
Peggy Smith
I believe that blind people have so much more potential than opportunity or society allow us to express.  The Service Club for the Blind should continue helping its members to be seen by the larger community in a positive light through its services, programs and influence.
The Service Club should be used to support its members and therefore making a better and more tolerant world for us all to live.
I have previously been a cheer leading coach, a Girl Scout leader for 15 years and a foster parent for 15 years. I worked for the Missouri School for the Blind for 20 years teaching elementary vocational studies and have been the President of Midtown Lions and the President of United Workers for the Blind. I also volunteer at my church helping to cook desserts for a homeless group.
Rhonda Jones
I hope that by serving on the Service Club Board, I can enhance, enrich and empower the lives of others through my service and that's my way of giving back to people who've given so much to me.